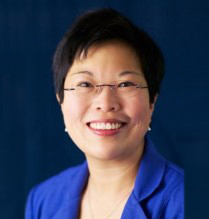 Sandy Chung, MD, FAAP
President
September 8, 2023

Dear colleagues,
This fall brings several concurrent challenges to pediatric practice: Covid-19 vaccines will transition to the commercial marketplace, Medicaid unwinding has pushed thousands of families off their insurance plans, and we face myriad obstacles to offer nirsevimab, the new RSV immunization recommended for all infants.
Today, I wanted to give you a few updates on where we are with all three of these issues, starting with RSV.
1. RSV: First of all, this new immunization presents tremendous potential benefits for infant health, which is why the AAP and other groups have recommended it be made available to everyone. But the barriers to offering nirsevimab (Beyfortus) to all infants are significant and complex. AAP is advocating on behalf of our members and the families you care for to find workable solutions, but it is highly likely that due to logistical and financial barriers, nirsevimab will not be available in all communities this fall.

Delivering this product will require significant changes for Medicaid and private payers, hospital systems, and pediatric practices, and these systems are all interdependent in complicated ways. Unfortunately, our list of questions right now is longer than our list of answers, but here are a few updates I can share:
AAP is meeting with leaders at the Centers for Disease Control and Prevention (CDC) and the Centers for Medicare & Medicaid Services (CMS) following our July letter urging them to create a comprehensive strategy to ensure equitable access to nirsevimab. These discussions are ongoing, and we continue to urge our government partners to create strategies that do not impose financial and logistical burdens on pediatricians.
Nirsevimab will be available in pre-filled syringes, and Sanofi has agreed to a 150-day payment period from the product ship date. We expect CDC to update the price list for nirsevimab this month. AAP anticipates doses in the Vaccines for Children program will be available starting in early October, but there could be variation among states in terms of distribution.
AAP is advocating for a new CPT code to adequately cover the costs of counseling and administration. AAP is in discussions with payers to request prompt loading of nirsevimab product codes (and the administration code once available), as well as continued coverage of palivizumab.
We anticipate that after the Sept. 22 meeting of the CDC's Advisory Committee on Immunization Practices (ACIP), there will be recommendations on RSV vaccines for pregnant people. As soon as we know more about those recommendations and how they relate to nirsevimab, we will share them with you.
Meanwhile, experts are tracking an uptick of RSV cases in the southeastern U.S., which could lead to cases spreading north and west in the next 2 to 3 months according to historical patterns.
AAP.org has a web page with information on RSV, including AAP recommendations, FAQs; ordering and product information; administration, dosing and scheduling; and payment and coding information including vignettes. This information is rapidly changing, and we anticipate more updates later this month. We also anticipate additional information from CDC in October, including information sheets for families. The AAP.org pages will be updated frequently, and AAP News will continue to cover new developments and share them in On Call.
AAP also offers information for families in the HealthyChildren.org article, RSV: When It's More Than Just a Cold.
2. Covid-19 vaccine commercialization: On Sept. 12, the ACIP will meet to discuss recommendations for the updated COVID-19 vaccines. These monovalent vaccines are designed to protect against XBB.1.5, an omicron subvariant, and appear to protect against other circulating strains. Watch for coverage in AAP News of the decision and the AAP recommendations to follow.
Both Moderna and Pfizer have released information on placing orders. The vaccines likely will be available soon after the Sept. 12 meeting. According to CDC, providers will be able to borrow between Vaccines for Children (VFC) and private COVID-19 stock, and there will be no minimum threshold for the amount of private stock that VFC providers will need to purchase.
3. Medicaid unwinding: The AAP remains highly concerned about the number of children and families losing coverage during the Medicaid unwinding. As of Sept. 5, more than 5.6 million people have lost coverage, 73% of whom have lost coverage due to paperwork rather than an actual determination of ineligibility. We know that at least 1.1 million children have lost coverage. AAP continues to raise these concerns to CMS and to encourage measures to hold states accountable for inappropriate coverage losses.
After persistent advocacy from AAP, CMS recently sent a letter to all state Medicaid programs, calling for a nationwide assessment of whether Medicaid eligibility systems are improperly disenrolling children and other individuals from coverage during a Medicaid auto-renewal process. Because jurisdictions may be reviewing eligibility at the household level during such auto-renewals, this may result in children and other individuals losing coverage who actually remain eligible. CMS is calling on states to correct any problems with these processes, pause paperwork disenrollments, and reinstate individuals to coverage. While CMS oversees this process, AAP will continue to push for steps to ensure that children do not inappropriately lose coverage.
AAP also has new and updated unwinding resources for pediatricians, pediatric practices, and AAP state chapters at www.aap.org/MedicaidUnwinding, including updated "3 Steps to Keep Your Coverage" flyers as well as new coverage loss flyers for all 50 states +DC, and new practice guidance to help practices navigate coverage scenarios during the unwinding period. AAP will continue to update this page and keep members and AAP chapters apprised of our advocacy.
We will share more information as it becomes available on all of these issues. These are ever changing developments, and we have learned through the last few years that we can successfully persevere through change together. Please know that AAP continues to advocate for your behalf and for the health of children. Thank you for all that you continue to do to take the best care of children and families!

Warmly,
Sandy Chung, MD, FAAP
President
Source
American Academy of Pediatrics