The American Academy of Pediatrics has achieved Accreditation with Commendation through the Accreditation Council for Continuing Medical Education (ACCME). The ACCME® system employs a rigorous process for evaluating institutions' CME programs according to standards that reflect the values of the educator community and aim to accelerate learning, inspire change, and champion improvement in healthcare. Through participation in accredited CME, clinicians and teams drive improvement in their practice and optimize the care, health, and wellness of their patients.
AAP Credit Materials
AAP credit can be offered for any CME activity by applying to AAP.
Other CME Resources
These are additional resources to assist you in planning educational activities.
The ACCME Standards for Commercial Support must be followed for every program receiving commercial support.
AAP's policy on financial relationships for all persons involved in educational activities.
AAP's policies on advertising and exhibits at educational activities.
View Information to assist you in developing questions for MOC assessments.
Instructions on how to access the transcript tool and view your credits.
Access the AAP Transcript tool to view your credits.
A guide to help you in completing the gaps and needs sections of the abstract form.
A detailed explanation of professional practice gaps and how to develop learning objectives to address these gaps.
A guide to assist you in developing well-written learning objectives.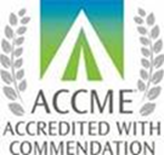 Accreditation with Commendation recognizes organizations that advance interprofessional collaborative practice, address public health priorities, create behavioral change, show leadership, leverage educational technology, and demonstrate the impact of education on healthcare professionals and patients. The American Academy of Pediatrics has maintained Accreditation with Commendation since 1981.
Source
American Academy of Pediatrics