Patient attrition (premature discontinuation) from pediatric obesity treatment clinics and programs is a major issue facing tertiary care children's hospitals, with most clinics/programs reporting rates of >50%. Non-completion or poor retention may result in only partial "treatment" and exposure to the intervention; as with a course of antibiotics not being taken in full, incomplete treatment for obesity is unlikely to be effective.
The series of resources here are evidence​​-informed and were developed by a multidisciplinary team of experts in weight management to support efforts to improve patient retention in your pediatric tertiary care weight management program. We encourage you to use the materials and welcome your feedback. However, the materials are copyrighted and cannot be changed without the permission of the AAP Institute for Healthy Childhood Weight. Prior to download of any of the materials, you must complete this brief form​. Please acknowledge your use of the materials in any publication. To view the list of the Patient Retention Resources Development Team, cli​​​ck h​ere​​.
Key Driver Diagram
The Patient Retention Toolkit is designed to address key drivers identified in this key driver diagram. This key driver diagram can be used to inform changes you may want to explore in your practice.
​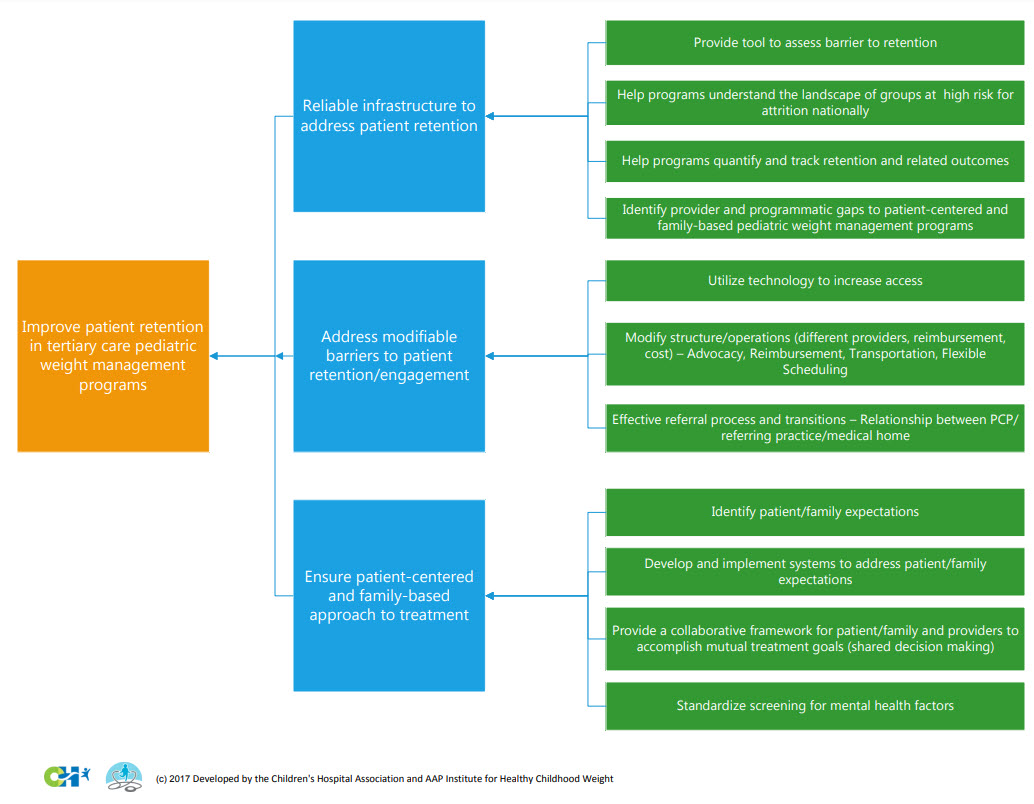 Patient Retention Resources
Below please find a series of resources to address specific key drivers as described in the diagram above. Again, we welcome your feedback on these patient retention resources which can be submitted via the feedback form.
Sample Letters
Sample Patient Contract Agreement
Tracking Spreadsheet
Assessment and Management
Assessing and Addressing Expectations
Mental Health Screening
Source
American Academy of Pediatrics