Pediatricians serve children and families by providing indispensable anticipatory guidance about many aspects of healthy growth and development. As the number of youth and families who count themselves among the growing community of gender and sexually diverse individuals increases, pediatricians are uniquely qualified to offer the education, resources, and support to the families in their care. The following represent some of the many ways pediatricians can improve the care of their LGBTQ+ patients/families, with the acknowledgement that not all pediatricians may be able to implement all of these recommendations.
Create a Welcoming Atmosphere
Train all staff about why inclusivity and acceptance of diversity is a positive way for pediatric professionals to model equity. This includes how to create a safe and affirming environment, and the important role front office staff play. This training should be incorporated into employee orientation for new staff and include periodic refreshers for all staff.
Post LGBTQ+ signs (Spanish), flags, or stickers in waiting rooms, exam rooms, and bathrooms after all staff are trained (see first bullet). Just seeing these symbols will let LGBTQ+ patients and families know they are welcome.
Provide patient education materials that show LGBTQ+ persons and discuss LGBTQ+ issues.
Get pronoun pins or stickers and affix appropriate pronouns to all staff nametags. For gender diverse patients and their allies, stating or displaying pronouns shows understanding and acceptance.
Offer single occupancy, all-gender bathrooms. If this is not possible, post signage that encourages patients to use the bathroom that corresponds with their gender identity and design stalls for maximal privacy.
Improve Office Systems for LGBTQ+ People
Normalize confidential, one-on-one discussions with adolescents and young adults as part of routine adolescent medical care. Be familiar with state laws regarding what information is considered confidential.
Hire staff that reflect community diversity, if possible.
Review office forms, labels, patient portals, and EHRs for inclusivity as well as confidentiality. Explore whether your EHR can "hide" sensitive information (including free-text notes) from the patient portal if the patient does not want certain information shared. Query EHR vendors on how sexual orientation and gender identity information is collected.
Create opportunities for LGBTQ+ patients and families to give feedback to your practice via comment cards, satisfaction surveys, or advisory groups.
Create a Positive Experience
Use communication best practices with patients and families.
Though some youth may share their LGBTQ+ identity with their health care provider, recognize that many youth may hold an LGBTQ+ identity and not share it, while other youth may not be sure of their gender identity or sexual orientation.
Actively engage in consent with patients. Ask permission for sensitive questions and before examining patients. This approach models consent and shows patients how to assert body autonomy. Body autonomy and consent are basic human rights for all ages.
Focus on resiliency and opportunities for support, as well as risk and harm reduction.
All patients, even our youngest, want their providers to listen carefully to their narratives and needs. Patients fare better when there is shared decision-making that recognizes their reality and prioritizes their identified needs.
Become familiar with professional and community resources that are tuned in to LGBTQ+ health, wellness, and support.
Taking care of LGBTQ+ children and adolescents is primary care and models patient-centered, consent-based care. Being open and savvy about the health and social needs of LGBTQ+ patients and families improves everyone's practice of medicine and models social justice.
Sample Language For Office Forms
Below are appropriate ways to ask about a patient's sexual and gender identity that can be incorporated into office-based forms. Teens should be allowed to answer these questions in a confidential setting and the information should be captured and stored in a manner that is in accordance with local policies and laws around adolescent confidentiality.
Communication Best Practices
The following chart provides best practices for communicating with all patients and families.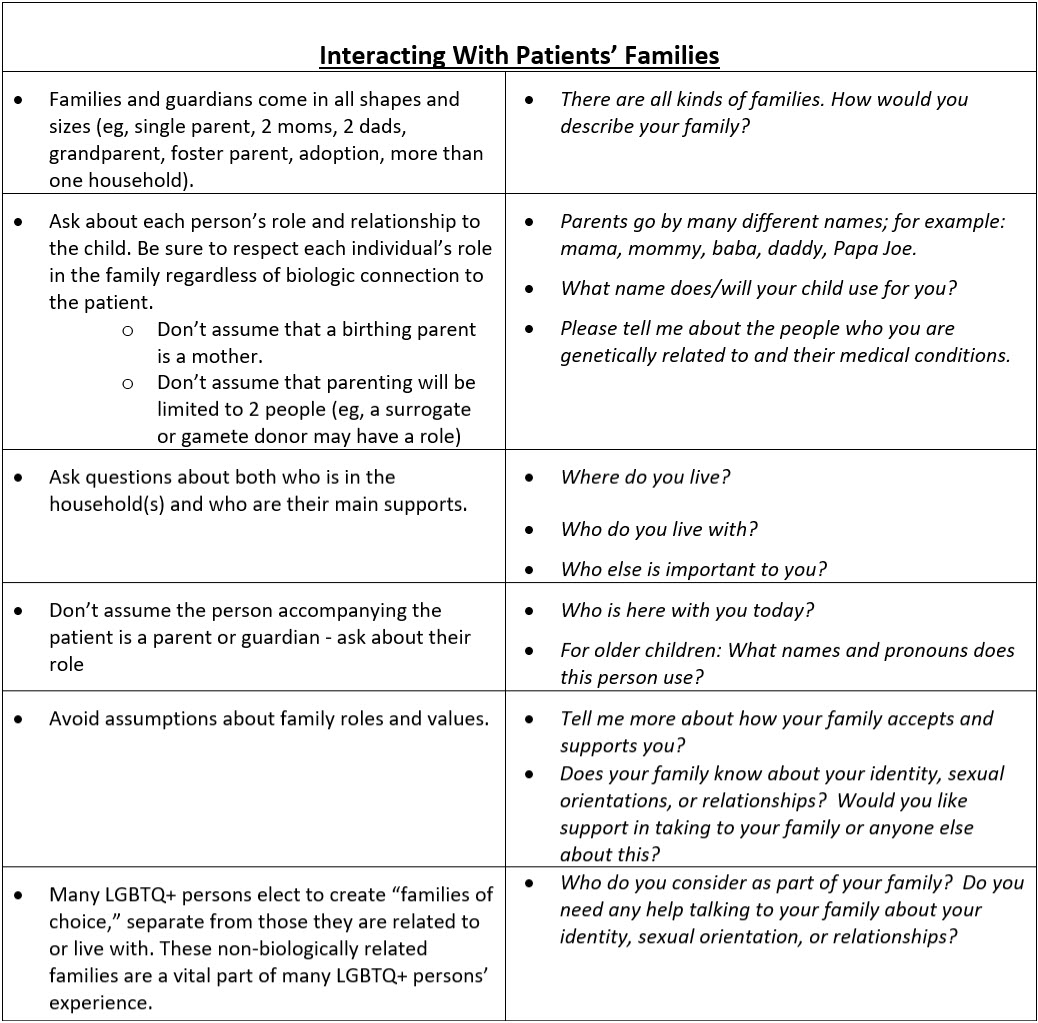 Source
American Academy of Pediatrics