TEAMS Framework
The TEAMS Framework provides a series of steps that helps teams to think and act strategically and systemically as they work to improve the district's/state's school health services. This framework was developed based on the AAP's extensive experience working with school districts as well as a review of the literature on topics including public health planning and evaluation; program management; strategic planning; policy, systems and environmental change; and collective impact.
The TEAMS framework is divided into 2 phases:
Strategy Phase
Teams form a leadership team, ideally consisting of:

District health services/education representative
Public health professional (department of health)
Mental health professional
Pediatrician/ clinician partner

Teams identify issues: collect data, complete the Health services Assessment Tool for Schools and/or States (HATS) and gather input from community and partners.
Set goals and determine the best strategies for reaching those goals.
Develop a strategic action plan that includes specific steps that teams will take to work towards their goals.
Implementation Phase
Teams put their plan to action and monitor results.
Evaluate progress:

Findings will provide teams with data on issues that still need to be addressed in their next strategic action planning cycle.

In areas where the team has been successful, they will work to sustain that success.
Throughout this process, as is represented by the arrow across the top, the team will need to work with relevant community members and partners.
The framework has been designed to help teams think about the basic steps they will need to go through in order to approach school health services improvement in a strategic, systemic fashion. The framework also helps break down what can seem like an overwhelming task into smaller pieces that can be more easily integrated into the team's workflow.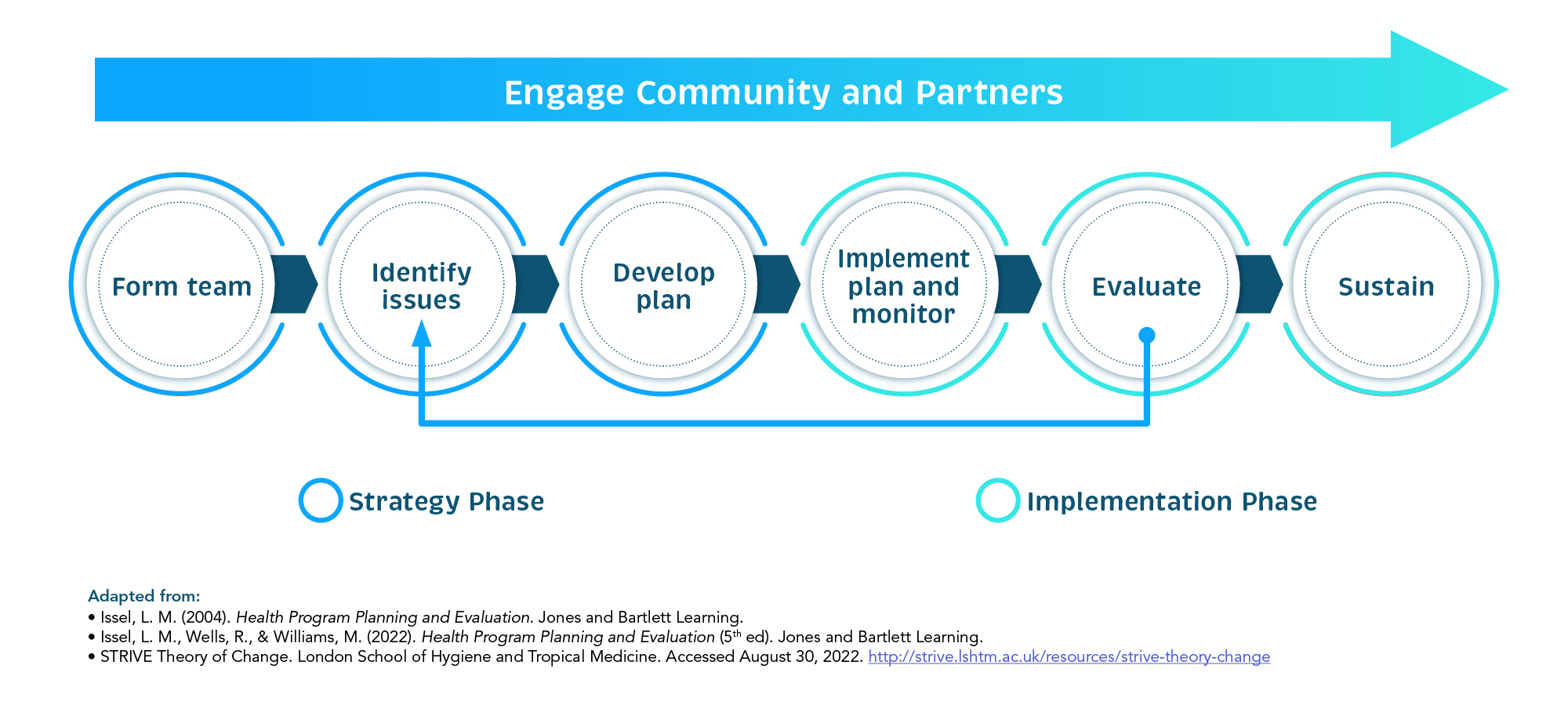 This webpage was supported by Cooperative Agreement Number NU38OT000282-04-00, funded by the Healthy Schools Branch - Centers for Disease Control and Prevention. Its contents are solely the responsibility of the American Academy of Pediatrics and do not necessarily represent the official views of the Centers for Disease Control and Prevention of the Department of Health and Human Services.
Source
American Academy of Pediatrics