As of June 27, 2023, all DEA-registered practitioners are required to attest to 8-hours of substance use training upon initial registration or renewal of their DEA license, as part of the MATE Act.
Goal of this new requirement: "Given the urgency of the nation's overdose crisis, the importance of practitioners receiving training in substance use disorders (SUD) cannot be overstated. Incorporating training on SUD into routine healthcare will enable practitioners to screen more widely for substance use disorders, treat pain appropriately, prevent substance misuse, and engage people in life-saving interventions."
– SAMHSA
Where do I even start? This is all new to me!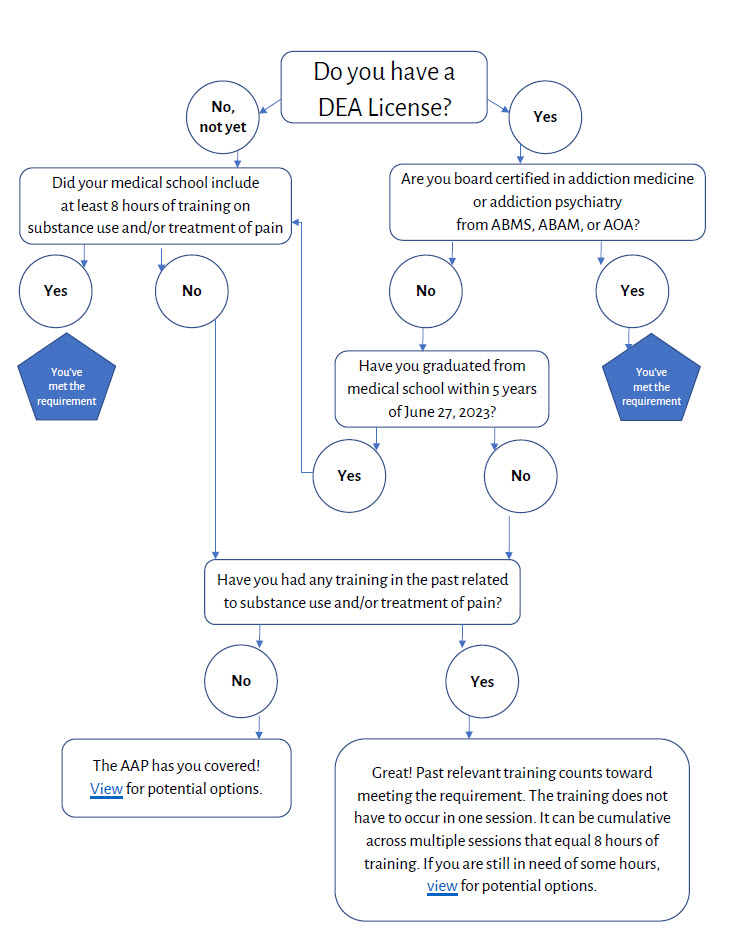 Where can I obtain training?
Any organization approved or accredited by the Assistant Secretary for Mental Health
and Substance Use, the ACCME, or the CCEPR. This includes the American Academy of Pediatrics.
The training does not have to occur in one session. It can be cumulative across multiple sessions that equal 8 hours of training.
AAP Education

How often do I need to meet this requirement?
This is a one-time requirement.
How will I report my training to meet this requirement?
There will be a check box on the online DEA registration form asking to affirm having completed the new training requirement.
What is the deadline?
The date of a practitioner's next scheduled DEA registration submission—regardless of whether it is an initial registration or a renewal registration—on or after June 27, 2023.
Source
American Academy of Pediatrics