​Climate Change: Lessons from the COVID-19 Pandemic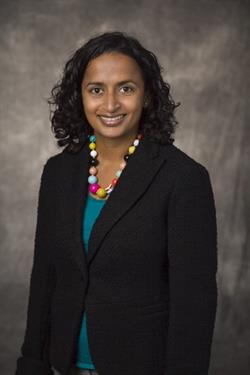 Aparna Bole, MD, FAAP
April 15, 2020
Editor's note:
This is one of a series of "AAP Voices" posts to highlight the effect of climate change on children's health.
In the spring of 2020, the momentous 50th anniversary of Earth Day (on April 22), and the extraordinary and devastating global COVID-19 pandemic coincide. I've been talking with my children about the complicated feelings that have come up for us during this time of pandemic response – a mix of anxiety, fear, and sadness but also moments of hope, gratitude, and love for our neighbors.
My daughter, home from kindergarten during our school closure here in Ohio, corrects me every time I talk about "social distancing" with a lesson her teacher has shared in their virtual classroom: "Mom, it's not social distancing! It's physical distancing."
When I ask her what the difference is, she tells me, "We can't be next to other people, but we actually need to be close to people in different ways. We need to take care of other people and each other." Out of the mouths of babes–by way of a very wise kindergarten teacher.
Those who are leading our COVID-19 response, nationally and globally, remind us often that "we are all in this together." That reminder applies also to our reflections about the next 50 years of environmental stewardship and the pressing challenge of addressing climate change. Bold, urgent collective action on climate change is critical to ensuring a healthy environment for current and future generations of children to grow, learn, and thrive. We know that kids bear a disproportionate burden of climate change's health impacts, and our power to make a difference depends on our understanding that we are truly all in the fight together.
Above all, remembering what we've learned from our pandemic response about taking care of each other will be essential for climate action as well. We've also learned that building an infrastructure that supports social cohesion, including leveraging technology to connect people and communities, is clearly important for our communities' resilience in the face of any public health threat, including climate change.
The COVID-19 pandemic has revealed vulnerabilities in our economic and social systems that are also relevant to our thinking about climate change. Those with the fewest financial and other resources are most vulnerable to the economic and health consequences of our pandemic response. For example, preexisting housing, food, and medication insecurity is being dangerously exacerbated. Similarly, the health impacts of climate change are most devastating to communities living in poverty and that are historically marginalized. We can remember from the tragic inequities being underscored by this pandemic that equity and justice must be the foundation of global climate action.
We're also learning that the slowdown in car and air travel and the decrease in fossil fuel combustion in power plants, as a consequence of the COVID-19 response, are resulting in a dramatic decrease in air pollution all over the world. We're reading descriptions of fish coming back to cleaner waters in Italy and the appearance of visibly clearer skies in China, and striking accounts from here in the United States about fresher air in Los Angeles and birdsong newly audible in New York City. There are glimmers of hope to be found here about the remarkable resilience of Earth's ecological systems, and the powerful impact that collective action can have, even on a short time scale, on global carbon emissions.
"We can remember from the tragic inequities being underscored by this pandemic that equity and justice must be the foundation of global climate action."

We shouldn't take from this, though, that economic and environmental well-being are in direct opposition to each other. Rather, we should learn that economic and social systems that depend on extraction, exploitation, consumption, and disposal are inherently fragile. These systems are vulnerable to stress, are not sustainable, create enormous inequities, and are not compatible with the long-term health of people or the planet. What if this moment were to become an inflection point that could result in the establishment of sustainable, equitable, just, and regenerative economic and social systems here in the United States and around the world?
As the COVID-19 pandemic continues to evolve, it's difficult to articulate lessons for the future in real time. However, we also know that times of great stress can be opportunities for sustained change on a large scale. It's safe to say we will be forever transformed when we are on the other side of this pandemic. If, as part of that transformation, we can hold on to our connectedness and care for one another, our attentiveness to equity and justice, and our understanding about the importance of a sustainable and resilient economy, we will have all we need to enact climate solutions--the tools and technology for which we have already. These climate solutions–including transitioning to a clean energy economy, designing inclusive and vibrant cities, and supporting a healthier food system–benefit kids' health, immediately and in the future.
As I think about the loss and grief that the historic public health crisis of COVID-19 has brought, in marking the milestone of Earth Day 50 I also find hope in our ability to come together so that over the next 50 years, and beyond, we will be united in protecting a healthy environment for all children.
*The views expressed in this article are those of the author, and not necessarily those of the American Academy of Pediatrics.
Aparna Bole, MD, FAAP
Aparna Bole, MD, FAAP, is Medical Director of Community Integration at UH Rainbow Babies & Children's Hospital and an Associate Professor of Pediatrics at Case Western Reserve University School of Medicine in Cleveland, OH. She is particularly interested in the intersection between environmental sustainability and pediatric public health. She serves as chair of the American Academy of Pediatrics Council on Environmental Health, on the board of Healthcare Without Harm (as co-chair) and is a founding advisory council member of the Ohio Clinicians for Climate Action.