​Wildfire Smoke a Growing Threat to Vulnerable Children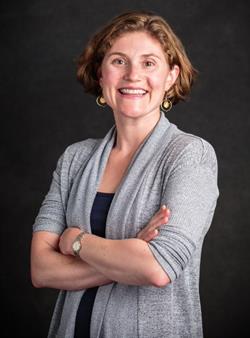 Amanda Millstein, MD, FAAP
April 15, 2020
Editor's note:
This is one of a series of "AAP Voices" posts to highlight the effect of climate change on children's health.
Halloween. Daylights Savings. Wildfire smoke. Canceled school. Evacuations. Power outages. All of these things are now associated with October in Northern California.
I am a primary care pediatrician in Richmond, California. I take care of newborns, toddlers, grade schoolers, and kids graduating from high school and in college. Many of my patients have complicated medical conditions and most of them are publicly insured. About half of them are non-native English speakers.
My patient Stacy is 11 years old. She has cerebral palsy, a condition that makes her body weak and unable to move without the aid of a wheelchair. She also has a seizure disorder. Stacy lives with her parents near Vallejo, a large, working-class city about an hour's drive from San Francisco. Because her chest is weak and her ability to cough is poor, Stacy relies on a machine to help her clear her lungs twice a day and also deliver breathing treatments when she's sick. Stacy also tends to have more seizures when she is anxious or sick.
This past October wildfires raged throughout Northern California, as they have the past three autumns. The air, putrid and thick with smoke, was unbreathable. Most recently, millions of families also lost electricity--some for several days--as utilities cut off power in an attempt to prevent unusually high winds and faulty electrical wires from sparking new flames.
During one such "public safety power shut off" event, Stacy's family was told they could lose access to electricity and fresh water for up to a week. Stacy's Mom packed the entire family up in the middle of the night and drove two hours to find a hotel where they could stay. She was so worried about not being able to use Stacy's breathing machine that she decided the safest thing was for them to leave their home.
A week later, Stacy's mom she told me about this experience, the frantic packing and the chaos that ensued. As she talked, her eyes were still wide, dazed. Her hands shook. She told me about how scared Stacy seemed with the sudden transition, and how she'd had several seizures in one day, requiring rescue medication that she hadn't needed in years. And at the end, Stacy's mom acknowledged her family's luck -- they had a car, they could afford a hotel, they could get out. Their house didn't burn. This time.
"In Northern California, the increased frequency and intensity of wildfires is directly attributable to climate change."

Unfortunately, Stacy's story is just one of many. As a physician in Northern California, I see the ways in which climate change is impacting the health of my patients and their families every day. In Northern California, the increased frequency and intensity of wildfires is directly attributable to climate change. Our state is struggling to figure out how best to address this new threat of wildfire smoke exposure, which is dangerous especially to young people, people with asthma and other respiratory diseases. If we continue burning fossil fuels per usual, the coming decades will bring to California an increase in the average annual maximum daily temperature by up to 8.8 degrees Fahrenheit, a decrease in water supply from snowpack by up to two-thirds, an increase of 77% of total area burned by wildfire, and complete erosion of up to two-thirds of all beaches in Southern part of our state.
All of these changes have dire health consequences, especially for our kids. Heat stroke and heat-related illness, an increase in vector-borne and infectious diseases, and worsening severity and frequency of seasonal allergies are just a few.
What can we do?
For one: talk about it. Talking to our kids about the climate crisis both eases their own anxiety and also compels us all to action. Get your kids out in nature. Talk about the importance of taking care of the Earth. Take actions together, however small. For two: get politically involved. Locally, nationally, internationally. Elect people into political office who understand the climate crisis and prioritize it. For three: understand the linkages between burning fossil fuels, climate change and every other aspect of our modern lives. Public transit, housing density, worker's wages -- these are all intricately tied to climate change.
The climate crisis is a health crisis. It is particularly a health crisis for our kids. Today, in both developed and developing countries, 88% of the health impacts of climate change are in children younger than 5 years of age. Pediatricians, health providers, parents, teachers, anyone who loves a child or cares about a child's future: now is the moment. Our kids are watching. Stacy and her mom are watching. Let's go.
*The views expressed in this article are those of the author, and not necessarily those of the American Academy of Pediatrics.
Amanda Millstein, MD, FAAP
Amanda Millstein, MD, FAAP, is a primary care pediatrician at UBCP Hilltop Pediatrics in Richmond, CA. She is a co-founder of Climate Health Now and a co-chair of AAP California Chapter One's Committee on Climate Change and Health.