Reminder and Recall Systems
The COVID-19 pandemic has resulted in declining immunization rates. Pediatricians can use immunization reminder and recall systems to identify and notify families whose children are behind on immunizations (recall) or due soon (reminder). Using these systems may be one of the most powerful ways to catch up those who are behind and ensure optimal vaccination rates. Many state immunization information systems (IIS) and electronic health records (EHRs) can easily run reports that your practice can use to contact patients who are overdue. Building those practices into patient flow is key.
Steps to identify overdue patients may include:
Decide on an age range to focus on, if it is not feasible to contact all patients.
Run an IIS query for all patients in your selected age range who are 30+ days behind on vaccination.
Run the same query in the EHR. If you are unsure whether your EHR system has this capability, check with your EHR vendor.
Pull the records for everyone who came up on the lists.
Reconcile the lists and update the EHR or IIS with missing information. Remove any patients who have moved or gone elsewhere from the list. Note that reconciliation between IIS and EHR should be done periodically.
Choosing a Reminder or Recall Strategy
Once you have a list of patients overdue or due soon for vaccines, you can start reaching out to them. Consider one or more of the strategies below. When selecting a strategy, consider the communication preferences of patients and families in your practice. What percent of patients actively utilize the patient portal? Do patients respond to mailed reminders, or are patients/families more responsive to individual phone calls? Do families find text messages more convenient?
Social Media is another way you can provide general reminders that your families should come in for immunizations and well visits.
Reminder postcards and letters can be printed and mailed. You can pull a list from your EHR. Another approach is to have the family fill out the reminder card for the next visit (eg, dose 2 or 3 of HPV vaccine) when in your office. See the new customizable postcards!
Patient portals are a common feature of most EHR systems. Use the patient portal to send messages to prompt patients or parents to check their patient portal for reminders about vaccinations that are due.​
Text messages are a great way to remind parents or adolescents about vaccinations. Note that they will need to "opt in." Obtain permission from families during office visits.
Phone calls from office staff tend to be more effective than auto-dialer calls, but often cost more in staff time.
​Auto-dialers automatically dial phone numbers and either play a recorded message or connect the call to a person. These systems also can be used for appointment reminders.
Sample Messages
Consider using or modifying the sample messages below. They may be best for text messages, but are easily edited for use in other formats.
Needing Catch-up vaccine: [PRACTICE NAME] is contacting you as our records indicate that your child is overdue for a vaccine. Please call [PRACTICE PHONE NUMBER] today to schedule your child's vaccination.
Routine, on-time vaccinations: "Hi! [Practice Name] is offering a friendly reminder that your child's wellness visit and/or vaccinations are due. It is very important to stay on track with these appointments. Please call our office at [PRACTICE PHONE NUMBER] to schedule your child's appointment. See you soon!"
Newborn appointments: "Congratulations from [PRACTICE NAME] on your new baby! Newborn checkups and on-time vaccines are very important. Please keep your scheduled appointments or schedule one today by calling us at [PRACTICE PHONE NUMBER] if you haven't already."
Auto-dialer or Text Vendors
Following are examples of auto-dialer or text vendors. Please note: The AAP does not endorse or recommend specific products or brands.
Customizable Reminder and Recall Resources
Social Media Graphics
Download the customizable Reminder-Recall graphics and instructions (PowerPoint).
Printable Resources
Download these high-resolution files, or letter template, customize with your practice information and print these postcards or letters for easy reminder and recall of your patients.
AAP Reminder and Recall Postcard instructions: From the dropdown menu, select the postcard file for your preferred printing method. If you are using a printing service, select the Printer-Ready PDF file. If you wish to address and print* them yourself, select the Fillable PDF file.
*To add your practice logo, select the Fillable PDF file. Hover over the space above the practice address field. A box will appear. Click the box and upload your logo. Logos should be 300 dpi and at least 1 inch in height, jpg format preferred, and will adjust to fit the space.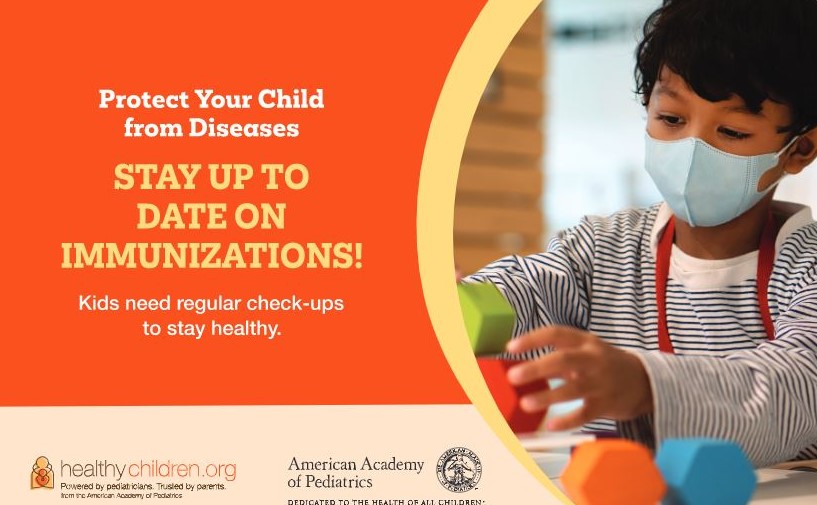 Customizable Reminder postcards for practices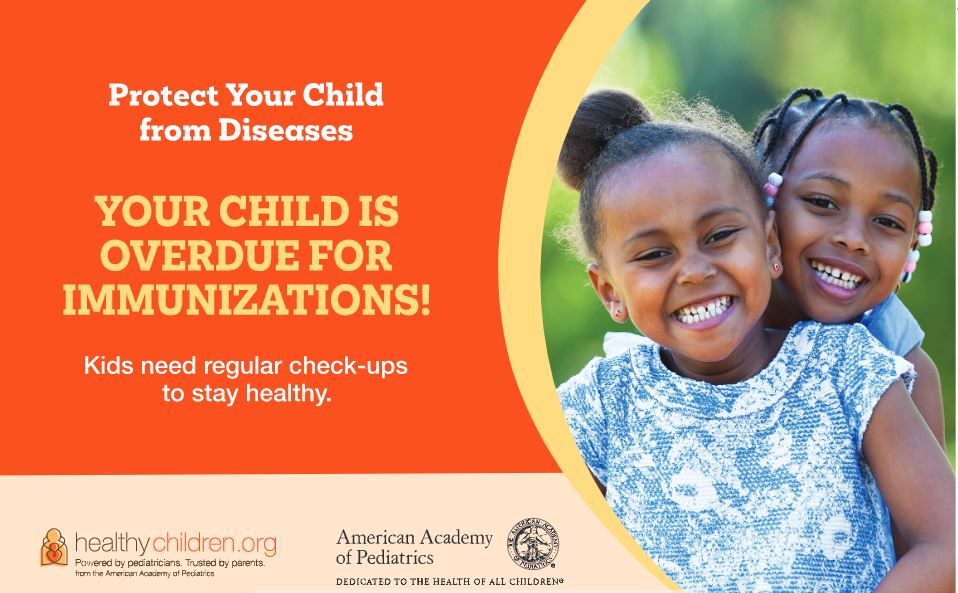 Customizable Overdue postcards for practices
Additional Resources
AAP – Call Your Pediatrician Campaign page
Find shareable memes that encourage families to stay current with immunizations and call their pediatricians office when needed.
AAP Practice Improvement Tools

Reminder and Recall Tools
Using Data to Implement Change and Increase Immunization Rates in Practice
Source
American Academy of Pediatrics