This Healthy Tomorrows Partnership for Children Program implemented group well child visits for Asian American immigrant and refugee families and children 0 - 2 years of age. The group visits allowed for caregiver education and support in a culturally competent and financially self-sustainable manner in the context of pediatric medical home.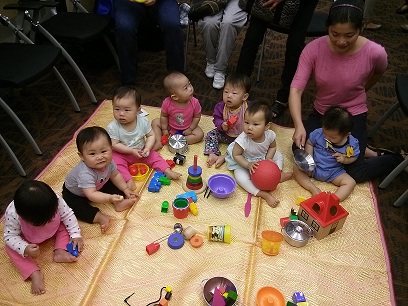 Implementation Insights:
Leverage existing opportunities and infrastructure rather than creating completely new initiatives.
Engage diverse families through cultural brokers who represent culturally and linguistically diverse community members.
Involve key leaders and stakeholders early to enhance sustainability.
Background Information
Type of Practice: Federally Qualified Health Center
Location: Oakland, California
Population Served: Low-income Asian American immigrant and refugee communities, specifically pregnant women as well as caregivers and children 0-2 years of age. Approximately 120 infants and their caregivers (mostly mothers) have been served by this program since its inception in March 2011.
Pediatric Medical Home Implementation Strategies
Group 8-10 infants of similar age, culture, and language backgrounds together for a group well child visit, allowing a pediatric clinician to spend up to two hours with a group of families.
Schedule and implement a series of eight group well child visits over 18 months, based on Bright Futures guidelines.
Utilize group visits to implement an interactive child development curriculum which educates caregivers on the following issues:

Child development
Nurturing and attachment
Discipline
Stress management
Nutrition
Safety

Invite culturally and linguistically diverse community health workers from target communities to attend and co-facilitate group well child visits. These individuals can foster a culturally competent environment that enhances collaborative learning, care coordination, and caregiver support.
Implement team-based, integrated care by supporting on-site case managers and licensed clinical social workers who screen for mental health, toxic stress, and domestic violence among participating families.
Convene a project advisory board consisting of community and family members; host meetings 2-3 times per year.
Seek feedback from family and community members by hosting focus groups that are facilitated by community leaders rather than project staff.
Integrate evaluation components throughout the project to demonstrate project impact and secure funding and support for future endeavors.
Explore multiple funding sources including the following:

Healthy Tomorrows Partnership for Children Program
Every Child Counts
Universities
Cultural advocacy organizations
Title V funded programs
Challenges
Expanding the project beyond a demonstration to a widely adopted part of regular clinic operations was a challenge. The project utilized evaluation results to demonstrate its impact and enhance leadership buy-in for sustainability. Evaluation results included the following:

Pre and post surveys were distributed to participating families. Results from the surveys demonstrated increased self-reported social support measures among families; increased utilization of positive discipline approaches; and increased nutritient intake among families and infants.
Additional evaluation data indicate that 100% of participating families and children had up-to-date immunizations, 100% of mothers were screened for post-partum depression, and 100% of participating infants underwent structured developmental screening and were referred appropriately.
More Information
For more information, contact Joan Jeung, MD, MS, FAAP, Director, Empowering Mothers Initiative.
For more information about the Healthy Tomorrows Partnership for Children Program (HTPCP), visit the HTPCP Web site.
Source
American Academy of Pediatrics