Ensuring Access to Important Vaccines During a Pandemic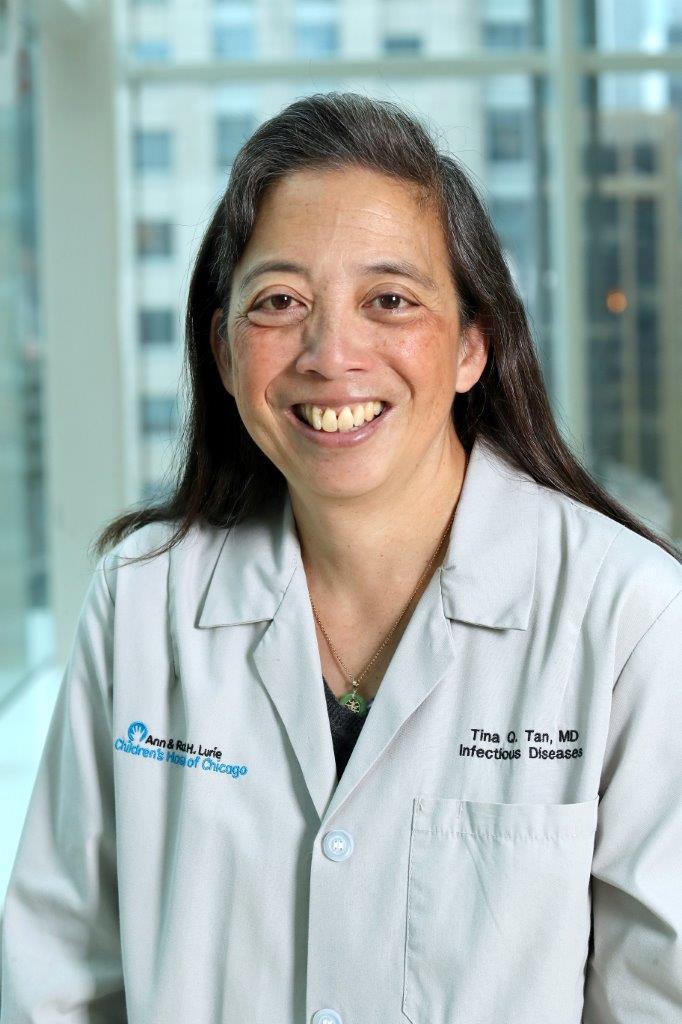 Tina Tan, MD, FAAP, FIDSA, FPIDS
August 27, 2020
When the pandemic struck, everything changed at hospitals and clinics. Universal masking became the norm, elective surgeries were canceled, COVID-19 symptom screening of staff became routine and we scrambled to find ways to serve our communities.
The fallout continues. At Lurie Children's Hospital in Chicago, travel bans have severely limited our International Patient Services Program, for instance. The program offers consultations to providers requesting assistance with difficult and complex diagnoses. We also offer consultations to patients seeking a second opinion from outside the United States or as follow-up care for those returning to their home country after a Lurie Children's hospital stay.
As an infectious disease specialist, I have been particularly alarmed to see immunization rates fall drastically as outpatient clinics limited their hours and parents feared taking their children into the office. I watched in fear as immunization coverage fell in the United States and abroad. Routine immunization services in many countries have been disrupted for six months; in some cases, programs have been indefinitely suspended.
Despite the established safety and efficacy of the measles-mumps-rubella vaccine after almost 50 years of widespread use, the United States is encountering higher levels of measles and mumps than has occurred for years, an AAP special article points out. The solution to continued threats of illness caused by these untreatable but readily preventable diseases is compliance with recommendations for administration of the measles-mumps-rubella vaccine.
"It is our job as pediatricians to continue to speak up for children to ensure they have access to basic life-saving vaccines."
This has led to terrifying predictions: At least 80 million children around the world under age 1 are at risk of contracting diphtheria, measles, and polio because of the ongoing pandemic.
I've been in touch with our counterparts at the Indonesian Pediatric Society over the last few months as both of our countries face a surge in COVID cases. The AAP has worked closely with IPS for several years to help strengthen Indonesia's childhood immunization system, and now we're adapting our work to explore the impact of COVID on routine immunization services. We've added questions to an existing survey for physicians and nurses to help us better understand what they are doing to minimize disruption in vaccination programs. These approaches may also be helpful for providers in the U.S.
In a country such as Indonesia, where 1 in 3 children does not receive their second dose of a measles-containing vaccine, any decline in immunization can be catastrophic.
While our geographies and contexts differ, all pediatricians recognize the fundamentals of raising a healthy child include immunization against many vaccine-preventable diseases. At a time when health systems are overwhelmed, caregivers are scared, and access to health services are limited, we must find creative ways to avoid backsliding. Whether in Indonesia or in Illinois, we need to continue to speak up about the importance of immunizing our children. In some settings, here and abroad, that may require bringing vaccines to children, a practice that is common in several countries already.
In Chicago, I am working with the Chicago Department of Public Health and other stakeholders to explore ways to organize an immunization day event within communities for under- and uninsured families. Wellness child exams and immunizations with pediatricians are important, of course, but not everyone has health insurance or access to health care in a traditional setting.
The current pandemic has changed so much about our everyday lives and how we function as a society. It has also shone a light on the indefensible inequities facing children, including global access to routine immunizations, long before the pandemic began.
It is our job as pediatricians to continue to speak up for children to ensure they have access to basic life-saving vaccines. And as trials begin on a COVID-19 vaccine, we need to keep children in mind at the earliest stages of research and development. They, too, will need to be vaccinated, and this will require a vaccine that is safe and effective in infants and children of all ages.
*The views expressed in this article are those of the author, and not necessarily those of the American Academy of Pediatrics.
Tina Tan, MD, FAAP, FIDSA, FPIDS
Tina Tan, MD, FAAP, FIDSA, FPIDS, is a professor of pediatrics at the Feinberg School of Medicine at Northwestern University and a pediatric infectious diseases attending physician. She also is the medical director of the International Patient Services Program, co-director of the Pediatric Travel Medicine Clinic, and director of the International Adoptee Clinic at Ann & Robert H. Lurie Children's Hospital of Chicago.