How We Can Support the Mental Health of Young Athletes
Sarah B. Kinsella MD, CAQ, FAAP
August 22, 2022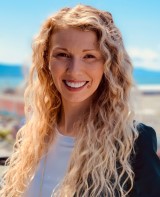 Cynthia (C.J.) Swanlund, Psy.D., LP
August 22, 2022
As autumn and a new high school sports season approaches, many pediatricians are seeing athletes in clinic or at community events for their preparticipation physical exams, or sports physicals. The PPE is an important time for pediatricians to address some of the unique aspects of athlete mental health with families, as the medical form includes the PHQ-4 to screen for anxiety and depression.
Youth athletes are likely to experience several well-documented mental health benefits due to their participation in sports, but athletes are not immune to mental health challenges. It is important to routinely screen for common mental health concerns, including depression and anxiety, among youth athletes.
Youth athletes with anxiety or depression may present with different symptoms and concerns. Including targeted and specific questions about an athlete's injury history, performance, training schedule, level of competition, and goals in sport, may be helpful and necessary to understand an athlete's situation or symptoms.

Athletes may be more comfortable describing a performance-related issue, like "getting distracted," when ultimately there may be an underlying mental health concern that is impacting their performance, such as anxiety. Youth athletes, who demonstrate perfectionism, including fear of failure, high external and internal pressures and expectations for performance, pose a greater risk of burning out and developing a mental health concern such as anxiety, depression, eating concerns, and substance misuse. These risks are even greater when an athlete specializes in one sport, engages in more frequent training, and as the level of competition increases.
"An athlete whose identity is strongly tied to their sport is also at higher risk for developing mental health concerns, especially when experiencing injury."
Injury is also one of the highest risk factors for depression among youth athletes. An athlete whose identity is strongly tied to their sport is also at higher risk for developing mental health concerns, especially when experiencing injury. They can lose their primary sense of self and the dreams, expectations and benefits that go along with their athletic identity.
Imagine taking care of the state-tournament-bound honors student who is sidelined due to prolonged concussion symptoms. It may take a few conversations and visits to understand how much their identity is tied to not only athletic performance, but academics as well. Even though their concussion symptoms will most likely improve with time, the recovery and return to sports process can be overwhelming, so a multidisciplinary approach with short term counseling may be helpful.

While most athletes will screen negative for mental health concerns, when an issue is identified or suspected, it is helpful to have a solid network of mental health providers who specialize in both performance and mental health concerns. This can be a powerful and preventative referral for young athletes, especially those exhibiting or prone to the risk factors noted above. Licensed mental health providers with a specialization in sport and performance psychology are uniquely trained to assess and treat both mental health and performance-related concerns.
An example of this type of provider is a sport psychologist, who is a licensed clinical or counseling psychologist with a specialization in sport and performance psychology. Alternatively, mental strength coaches or mental performance consultants vary widely in their educational backgrounds and training, are focused on identifying and treating performance-related concerns, not mental health concerns, and may refer to a licensed mental health provider if a mental health concern is identified.
Whether during the preparticipation physical exam, a well-child visit, or while taking care of an athlete with an injury or concussion, pediatricians are well positioned to screen for mental health concerns in athletes and help educate patients, families, and their community about some of the unique mental health considerations in athletes.
Resources:
*The views expressed in this article are those of the author, and not necessarily those of the American Academy of Pediatrics.


Sarah B. Kinsella, MD, CAQ, FAAP
Sarah B. Kinsella, MD, CAQ, FAAP, is a member of the AAP Council on Sports Medicine and Fitness Executive Committee. She is an adjunct assistant professor in the Department of Pediatrics at the University of Minnesota Medical School and practices sports medicine at M Health Fairview in Blaine, Minnesota.
Cynthia (C.J.) Swanlund, Psy.D., LP
Cynthia (C.J.) Swanlund, Psy.D., LP, is a counseling, sport and performance psychologist in Washington state. She is the assistant director of clinical operations in the Counseling and Wellness Center at Western Washington University and has a small private practice.