​New Guidelines for Mild Traumatic Brain Injuries Help Families Understand Recovery Process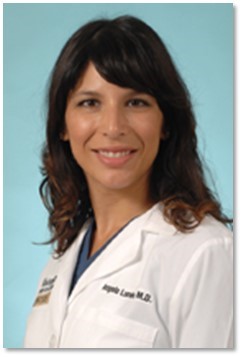 Angela Lumba-Brown, MD, FAAP
November 16, 2018
It all started when a cheerleading stunt went seriously wrong. High flying stunts and pyramids, such as when a cheerleader is tossed in the air or held up precariously by her teammates below, lead to as many as 91 percent of all mild traumatic brain injuries (mTBIs), including concussions, in high school cheerleading.
When the patient arrived in the emergency department, her parents explained that she had hit her head after falling off a pyramid during practice. Her teammates said she lost consciousness for a couple of minutes. Upon arrival, she was awake and alert. The patient, an active 14-year-old with good grades, said she felt sick to her stomach and had a bad headache.
Two days later, the patient was back in the emergency department complaining of symptoms. Reviewing her chart, I saw she was previously examined using a symptom-based assessment. In addition to her self-reported symptoms, it was noted that she was slow to respond to questions. Using the Pediatric Emergency Care Research Network (PECARN) decision algorithm, the attending healthcare provider decided to obtain a head CT scan.

With negative findings on the CT and no signs of worsening symptoms, the provider diagnosed her with an mTBI, and discharged her from the emergency department. Her parents were instructed to follow up with her pediatrician within a week.
All actions taken by the first healthcare provider were consistent with the latest clinical recommendations. So, I had to ask myself, "Why are we seeing this patient in the emergency department again?"
I discovered that two days after her initial visit, the patient continued to have a headache and feel nauseous. She didn't sleep well, either, and was irritable. Her parents became worried and called their pediatrician, but since it was after-hours, the patient was directed to the emergency department for evaluation. The family asked me, "Why is she still feeling so badly? Could something else be wrong?"
The previous healthcare professional completed many of the important clinical steps. However, one critical recommendation, now outlined in the CDC Pediatric mTBI Guideline, brought this family back to the ED: the need for patient and family education.
"Two days later, the patient was back in the emergency department complaining of symptoms. The family asked me, "Why is she still feeling so badly? Could something else be wrong?"
Research shows that patient and family education plays a significant role in recovery following an mTBI. Patient and family education on symptom monitoring, graded return to activity, and modified school activities are associated with improved health outcomes for patients. Based on these findings, the CDC Pediatric mTBI Guideline recommends that healthcare providers instruct families about what to do, expect and watch for during recovery. These include warning signs for more severe injury, symptom monitoring tips, and how to ease back into normal activities. Both verbal and written instructions may be beneficial.
Examining and managing patients for an mTBI is a multi-tiered process, and clinical guidance continues to expand and emerge as research provides a better understanding of these complex injuries. To help give healthcare providers up-to-date information on the latest clinical recommendations, the Centers for Disease Control and Prevention (CDC) and the American Academy of Pediatrics joined efforts to create a free online training on diagnosis and management of pediatric mTBI. Within the training, healthcare providers can also download tools to help support patient and family education, such as patient discharge instructions, and a handout that provides symptom-based recovery tips.
I let my patient and her family know that what she was feeling as she recovered from her cheerleading injury was normal. The good news, I told her, is that most children with mTBI feel better within a couple of weeks. Symptoms of mTBI will appear as part of the normal healing process and may change as an individual gets back to their regular activities, such as school. I also equipped the patient and her family with a customized return-to-activity plan based on her symptoms, as well as a handout with recovery tips.
The family left with a greater understanding, and less worry, about what to expect as she continued to heal. Now that's something to cheer about.
*The views expressed in this article are those of the author, and not necessarily those of the American Academy of Pediatrics.
Angela Lumba-Brown, MD, FAAP
Angela Lumba-Brown, MD, FAAP, lead author of the newly published CDC Guidelines on the Management of Mild Traumatic Brain Injury in Children, is a pediatric emergency medicine physician with expertise in traumatic brain injury and neurocritical emergencies. She is a clinical professor of pediatrics and of emergency medicine at Stanford University School of Medicine.