​Pediatric Readiness for the Everyday Emergency and Disasters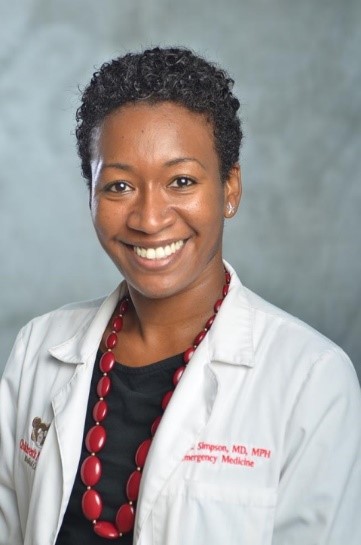 Joelle Simpson, MD, MPH, FAAP
May 17, 2019
On September 11, 2001, I was a first-year medical student preparing for anatomy class in Washington, DC, when I heard the plane crash at the Pentagon. In 2009, as a newly minted pediatrician working both in private practice and a community hospital urgent care, I battled through the patient surge of the H1N1 pandemic.
These events, among many other national and international disasters, significantly influenced the course of my pediatric career as I considered my role in preparing for, mitigating, responding to, and recovering from disaster events. Although children are among the most vulnerable victims during emergencies, their unique physical and psychosocial needs largely have been overlooked during federal and state disaster planning.
Children's unique health needs during emergencies
Children, as we know, are not just miniature adults. During emergencies, they are more likely to become sick or severely injured. They breathe in proportionately more air than adults do, based on body weight, for example. They also have thinner skin and a higher surface-to-mass ratio, become dehydrated, overheated or hypothermic more quickly. At emergency facilities, they often need smaller-sized medical equipment for treatment and different doses of medication. They also are less likely to understand what is going on, deepening the trauma they experience.
In 1984, the federal Emergency Medical Services for Children (EMSC) program was signed into law with a mission to reduce disparities in emergency care of children, whether in times of disaster or an everyday emergency. Another milestone was the American Academy of Pediatrics (AAP) Task Force on Terrorism, formed a month after 9/11, which aimed to ensure children's needs were considered in all emergency preparedness planning efforts. Today, we have the AAP Disaster Preparedness Advisory Council that was created in 2007 after Hurricane Katrina to develop and implement a strategic plan for disaster preparedness.

More than 80% of children are brought to non-specialty emergency departments for both adults and children, and half of U.S. emergency departments care for fewer than 10 children per day. I recall being paged to assist with a pediatric trauma patient brought in during one of my shifts at a community hospital. The child needed critical life-saving interventions. Pediatric trauma patients were not routinely cared for in this setting, and the experience was frantic.

The reason children are often brought to community hospitals rather than pediatric trauma centers is simple: location. According to the U.S. Government Accountability Office report, just 57% of children lived within 30 miles of a pediatric trauma center, on average, between 2011-2015. In more than a dozen states, that figured dropped below 20%.
Because of this, it's critical that all emergency departments have the appropriate resources, including staff with routine skills training and education to provide effective pediatric emergency care. As of 2013, however, fewer than half (47%) of emergency departments surveyed responded that they had a disaster preparedness plan in place that addressed the needs of children.
Advocating for pediatric emergency preparedness at all hospitals
What we need is comprehensive, evidence-based guidelines for pediatric emergency care. As medical director for emergency preparedness at a large children's medical center in the nation's capital, I rely on champions for pediatric readiness and pediatric disaster preparedness to continue advocating for the following principle: "All children, no matter where they live, attend school or travel should receive the best care possible in an emergency."
Administered by the U.S. Health Resources and Services Administration and the Maternal and Child Health Bureau, the EMSC program takes the lead in advocating for quality care for children in emergency settings. Its aim is to reduce child and youth disability and death due to severe illness or injury by increasing awareness among health professionals, provider and planners, and the general public of the special physiological and psychological needs of children receiving emergency medical care.
Funding from the EMSC program supports the integration of pediatrics in prehospital and acute care provider training, developing evidence-based EMS protocols and building collaborations to improve pediatric readiness. The program supports high quality, coordinated, and comprehensive emergency care across the care continuum, from the initial detection of a sick or injured child and prehospital transport to the emergency department, to hospitalization and rehabilitation.
​"Although children are among the most vulnerable victims during emergencies, their unique physical and psychosocial needs largely have been overlooked during federal and state disaster planning."
Helping families access disaster readiness resources
As pediatricians, we are among the most trusted source of information for parents, so it is important that we ask families about their disaster readiness, provide information on how to stock disaster supply kits or offer guidance on how to talk to children about disasters. In addition to the EMSC program, most states have AAP Disaster Preparedness chapter contacts that can serve as a resource for pediatric disaster preparedness information or offer opportunities to represent children at local or statewide disaster planning meetings. The AAP Children & Disasters website also links to valuable resources.
In my experience, clinic and hospital staff report tremendous value in talking through disaster plans or conducting disaster drills. The planning tools and checklists on the AAP website are relevant for pediatric practices, families, schools, and other child care settings.
In addition to ongoing support of the EMSC program, the federal government, specifically the Assistant Secretary for Preparedness and Response, has recently drawn attention to the unique needs of children in disasters by issuing notice of a funding opportunity for two Pediatric Disaster Care Centers of Excellence. Pediatric subject matter experts will be called upon to guide the development of a more comprehensive, enhanced national capability for pediatric care during disasters.
Having an understanding of local, regional and state readiness to care for children in emergencies is crucial to assessing the needs of your community. The EMSC program leads the National Pediatric Readiness Project -- a multi-phase quality improvement initiative to ensure that all U.S. emergency departments have the essential guidelines and resources in place to provide effective emergency care for children. The project's website provides state and territory-specific information regarding ED pediatric readiness assessments.
On May 22, EMSC Day will be recognized within the National EMS Week. This day is used to raise awareness about pediatric emergency preparedness and celebrate the work of emergency professionals in caring for children. Use this day to advocate for pediatric readiness in everyday emergencies and disasters by sharing AAP and EMSC resources with patients and colleagues.
Support your patients and their families in preparing disaster supply kits and maybe even consider conducting a disaster drill exercise in your workplace. Every day I am motivated by the gratitude of patients or colleagues when we have disaster exercises that reveal another element of our planning to improve our pediatric readiness.
An estimated 30 million children will visit the emergency department this year. That is roughly 17% of all children in the United States and 20% of all emergency department visits. During these everyday emergencies, and in the event of disasters, we need to continue working to ensure all children receive the most effective care possible.
*The views expressed in this article are those of the author, and not necessarily those of the American Academy of Pediatrics.
Joelle Simpson, MD, MPH, FAAP
Joelle Simpson, MD, MPH, FAAP, is the incoming Chair of the AAP Section of Emergency Medicine Disaster Preparedness Subcommittee. She serves as the Medical Director for Emergency Preparedness at Children's National Health System and the Program Director for the Emergency Medical Services for Children State Partnership program in Washington DC. Dr. Simpson is also an Assistant Professor of Pediatrics and Emergency Medicine at George Washington University School of Medicine & Health Sciences. Follow her on Twitter at @DrJoSimps.