​The Toll of E-Cigarettes on Our Patients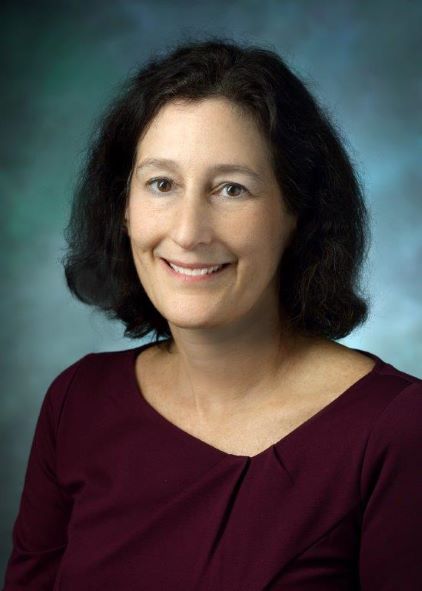 Sharon McGrath-Morrow, MD, MBA, FAAP
December 30, 2019
Recently at the hospital where I practice, several teenage boys were admitted within a few weeks of each other, struggling with shortness of breath and low blood oxygen levels. All were previously healthy and attended high schools in the surrounding Baltimore area.
The first boy was admitted to the intensive care unit (ICU), where he was treated with high flow oxygen and steroids. His CT showed diffuse lung injury, particularly in the lower lobes. He eventually revealed that he'd been using JUUL products and marijuana, and most recently vaping whatever his friends were using.
Around the same time, another teen was transferred to the ICU from an outside hospital. He had worsening respiratory distress and ended up on a mechanical ventilator for several weeks. While he was in the hospital, the boy's parents found a hybrid e-cigarette device in his room and tetrahydrocannabinol (THC)-containing cartridges.
A third boy was admitted with severe gastrointestinal distress and dehydration, symptoms also associated with vaping. An abdominal scan revealed infiltrates in the lower lobes of the lungs, and he required supplemental oxygen for several days. He said he'd been vaping nicotine and THC for the last several months with his friends.
Lung Injury Outbreak
The teens were among more than 2,500 patients who have been hospitalized for e-cigarette, or vaping, product use associated lung injury (EVALI) across the United States, part of a spike in cases that began last June. Many have been linked with vitamin E acetate in e-cigarette cartridges containing marijuana products. Research suggests that teens and adolescents who use e-cigarettes are more likely to start smoking marijuana products, too.
More than half of patients (54%) with EVALI were age 24 or younger. One teen in Michigan had to have a double lung transplant, while another in the Bronx was among dozens of patients who died from the lung injuries.
Fortunately, the patients I treated recovered. During discharge, though, one of them told his parents and health care providers that he would continue to vape. His parents were anxious to know how to help their child quit.
Newly released federal data suggests they are not alone in their concerns. Nearly 28% of high school students and 11% of middle school students reporting e-cigarette use, according to the 2019 National Youth Tobacco Survey.
"Fortunately, the patients I treated recovered. During discharge, though, one of them told his parents and healthcare providers that he would continue to vape."
A new generation of nicotine addiction
As pediatricians, we can help protect our patients by advocating for the elimination of child-friendly flavors from tobacco products, and educating patients about their dangers. Research shows that the majority of youth did not know that the most popular brand of e-cigarettes used by young people, JUUL, contains highly addictive nicotine, for example. Yet, a single JUUL pod contains as much nicotine as an entire pack of traditional tobacco cigarettes.
The tragedy of the e-cigarette epidemic is compounded by the fact that, by 2015, the use of cigarettes among young people in the United States had declined significantly. The trend was associated with higher prices of cigarettes, Tobacco 21 initiatives, better education on smoking dangers and fewer young people initiating the habit of smoking.
The subsequent vaping epidemic presents new, stickier challenges. It's going to the take the combined efforts of patients, their families, health care providers and public health professionals to beat this dangerous habit.
*The views expressed in this article are those of the author, and not necessarily those of the American Academy of Pediatrics.
Sharon McGrath-Morrow, MD, MBA, FAAP
Sharon McGrath-Morrow, MD, MBA, FAAP, a pediatric pulmonologist, is a member of the American Academy of Pediatrics Tobacco Consortium and its Section on Tobacco Control. A Professor of Pediatrics at the Johns Hopkins University School of Medicine, Dr. McGrath-Morrow holds a secondary appointment in environmental health sciences at the Johns Hopkins Bloomberg School of Public Health. In addition, she serves as a consulting staff member in the departments of pediatric pulmonary medicine at both Mount Washington Pediatric Hospital and Kennedy Krieger Institute. She also serves as the program director of Johns Hopkins' Pediatric Pulmonary Fellowship Program at Johns Hopkins.