It is important to know how to code and be paid for the administration and counseling.
Sending some or all of COVID vaccine administration to patient cost share is a violation of federal law. It can be reported to the HHS Office of the Inspector General (OIG).
Refer here for further details on coding for COVID-related encounter and coding during the public health emergency.
COVID Vaccine Coding
Coding for Services Related to COVID-19 Vaccines and Immunization Administration
Vaccine Product and Administration
Pediatricians who administer COVID-19 vaccines in their practice can get paid for vaccine administration by following the steps outlined below.
The CPT Editorial Panel has developed several new SARS-CoV-2 vaccine product and immunization administration codes. The new CPT codes
clinically distinguish each coronavirus vaccine product and the specific dose for better tracking, reporting, and analysis
allow for unique CPT vaccine administration codes for each vaccine product

This includes unique codes for a 1st , 2nd, 3rd, and additional (previously referred to as booster) doses of a single product
This level of specificity is a first for vaccine administration codes, and offers the ability to track each vaccine dose, even when the vaccine product is not reported (eg, when the vaccine may be given to the patient for free). The CPT codes for the administration include:
practice expense costs of storage and ordering
counseling provided to patients or caregivers on the date the vaccine is administered
administering the vaccine
updating the electronic health record and the vaccine registry
Note you will not report the immunization administration codes (90460-90461, 90471-90474) when administering a Coronavirus vaccine.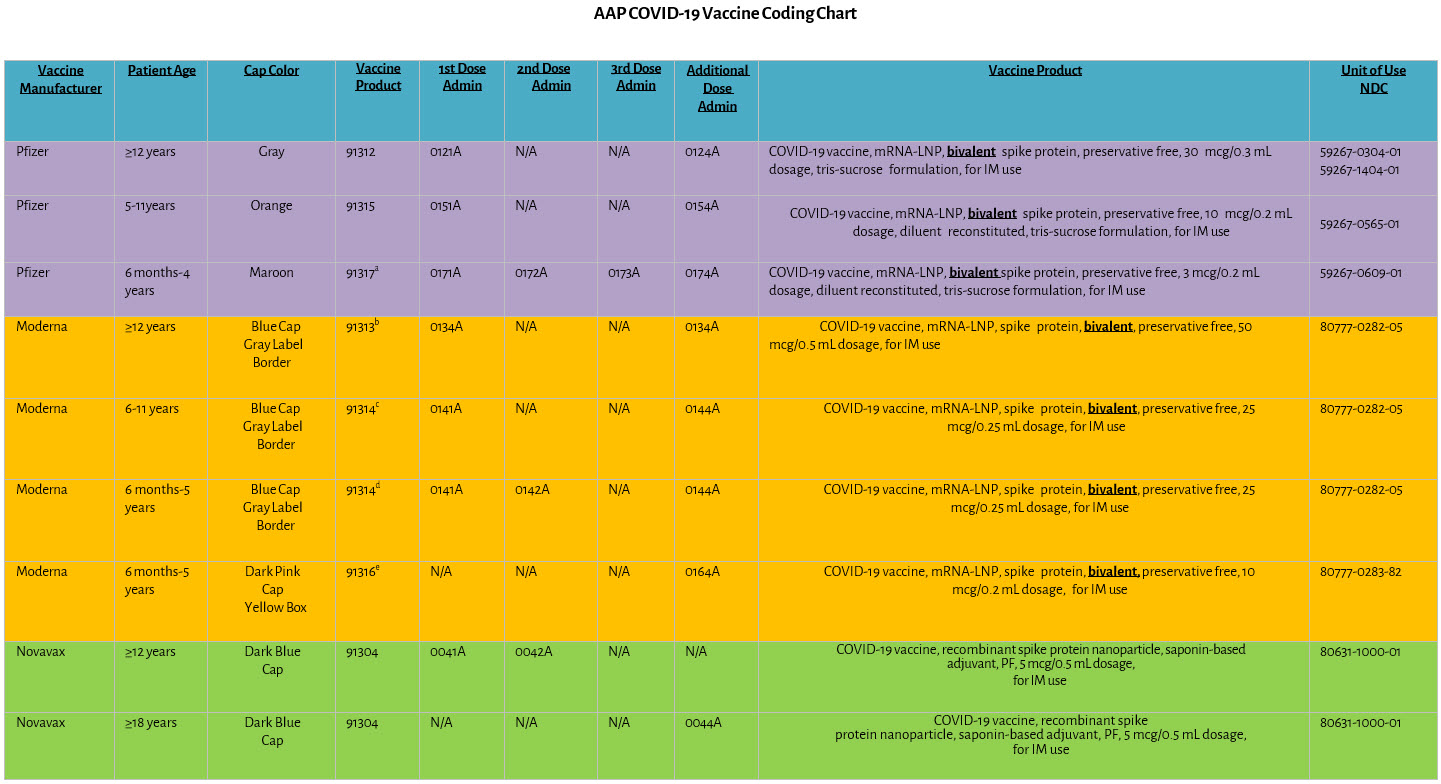 Vaccine Counseling Coding
Vaccine Counseling with No Administration
There may be occasions when a patient or parent presents to their medical home for vaccine counseling, particularly for the COVID-19 vaccine. Increasing vaccine hesitancy surrounding this vaccine may be greater and some older adolescents may seek out information on their own. There are many mechanisms by which you can get information out to your patients, however, for those who opt for in-person (ie, in office or telehealth) individual counseling there are coding options. You should check with your payers for guidance on the most appropriate way to code as some have limitations on the use of Z codes with office-based E/M services (eg, 99212). Note, if you provide vaccine counseling on the day you also administer the vaccine to the patient you may not report counseling separately. Coding options include:
ICD-10-CM codes
Z71.85 Encounter for immunization safety counseling
Plus a code from the following:
Z28.01 Immunization not carried out because of acute illness of patient
Z28.02 Immunization not carried out because of chronic illness or condition of patient
Z28.03 Immunization not carried out because of immune compromised state of patient
Z28.04 Immunization not carried out because of patient allergy to vaccine or component
Z28.09 Immunization not carried out because of other contraindication
Z28.21 Immunization not carried out because of patient refusal
Z28.82 Immunization not carried out because of caregiver refusal
Z28.83 Immunization not carried out due to unavailability of vaccine
CPT Options:
99201-99215 Office-based E/M service: based on time spent with the patient/caregiver.
99401-99404 Preventive Medicine Counseling: based on time spent counseling (Note this code is not listed as an approved telehealth service). May not be used for group counseling.
99411-99412 Preventive Medicine Group Counseling: Used for group visits when discussing vaccine safety
Coding Tips:
You will not report a 90460, 90461, 90471—90474 with any COVID-19 vaccine administration code.
Report only one vaccine administration code per COVID-19 injection
If you see the patient for a significant and separately identifiable E/M service in addition to the COVID-19 vaccine, append modifier 25 to the E/M service. For example, you see a patient for a routine preventive medicine service (eg, 99394) and they decide to get the COVID-19 vaccine, report the 99394 and the appropriate product (as required) and the administration code only. Counseling is captured in the COVID-19 vaccine administration code.
Your ICD-10-CM code for COVID-19 vaccine administration is Z23
ICD-10-CM Coding Vignettes for COVID Encounters
Vignette #1
Patient presents with a cough and runny nose. Reports no fever or known exposure to COVID-19 although the school the patient attends has a high number of cases. A COVID-19 test is run and it is positive.
Report ICD-10-CM Code:
U07.1 (COVID-19)
Vignette #2
Patient presents with a cough and runny nose. Reports no fever. A classmate was COVID-19 positive. A rapid COVID-19 test is run and it is negative. A PCR test is then sent out for confirmation. Physician documents COVID-19 exposure and URI.
Report ICD-10-CM Codes:
Z20.822 Contact with and (suspected) exposure to COVID-19
J06.9 Acute upper respiratory infection, unspecified
Vignette #3
A patient returns to the office after being positive for COVID-19. Patient is now asymptomatic and has had no additional exposure. Patient needs a note to return to school. Physician documents follow-up from COVID-19, may return to school.
Report ICD-10-CM Codes:
Z09 Follow-up
Z86.16 Personal history of COVID-19
Z02.0 Encounter for examination for admission to educational institution
Vignette #4
A patient presents to the office because they need a COVID-19 test to return to school after travel. Patient reports no symptoms or know exposure. A COVID test is run and is negative.
Report ICD-10-CM Code:
Z20.822 Contact with and (suspected) exposure to COVID-19
Z02.0 Encounter for examination for admission to educational institution
Note: Under normal circumstances a "screening" code would be reported. However, in this instance the ICD-10-CM guidelines state that during a pandemic, defer to the contact codes in lieu of the screening codes.
Patients with Private Insurance Coverage
Bill insurance using the appropriate CPT code as outlined in the coding guidance above. Some private payers appear to reject or deny claims if the product code (9130x) is listed on the claim. For these payers, send only the administration code (00xxA).
Patients with Medicare Coverage
COVID-19 Vaccine Administration to Medicare Patients
Some pediatricians may opt to participate in their community's COVID-19 vaccination efforts, including vaccine administration to Medicare patients. During the public health emergency, non-Medicare providers can enroll as a mass immunizer, which allows billing for COVID-19 vaccine administration. Medicare billing privileges are being granted on a provisional basis and are temporary. Enrollment can be accomplished over the phone by calling your state's Medicare Administrative Contractor's enrollment hotline. The following information will be needed to enroll: legal business name, National Provider Identifier, Tax Identification Number, Practice Location and state license. Additional enrollment information can also be found at the Centers for Medicare and Medicaid Services (CMS) website.
Medicare vs Medicare Advantage: what's the deal?
Some children with Medicaid are enrolled in a state-run plan, while other patients with Medicaid are enrolled in a managed Medicaid plan ("MCO") run as a subsidiary of a private commercial insurance plan like Centene, Anthem, UHC, etc. All Medicaid patients have a state-issued identification number, but only those Medicaid patients who are enrolled in an MCO also have an insurance company-issued identification number.
The relationship between Medicare and Medicare Advantage (MA) is similar. All seniors and disabled recipients of Medicare have a Medicare ID number (Medicare Beneficiary Identifier or MBI) issued to them by CMS. About ⅓ of Medicare recipients have enrolled in a Medicare Advantage plan, which is a managed Medicare plan run by a private company. The Medicare Advantage card looks similar to a commercial insurance card. It has a different ID number that is unique to that company.
A Medicare card looks like this, with the Health and Human Services (HHS) eagle in the upper left corner. The MBI (1EG4-TE6-MK72) is listed on the second row.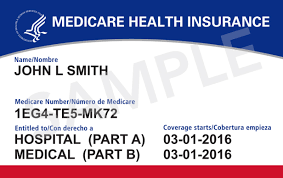 Medicare Advantage (MA) cards all look different, depending on the Medicare Advantage company. This one is issued through the AARP from United Healthcare. It contains a member ID, but the member ID is not the MBI.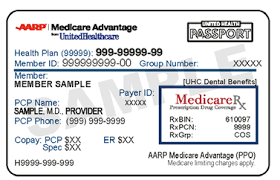 Why does this matter?
COVID vaccine claims must be sent to traditional Medicare using the MBI.
For Medicare Advantage patients you vaccinate on or after January 1, 2022, submit COVID-19 immunization administration claims to the Medicare Advantage Plan. Original Medicare won't pay these claims beginning in January 2022.
Please see https://www.cms.gov/medicare/covid-19/medicare-billing-covid-19-vaccine-shot-administration for more information.
Patients without Coverage
*3/25/22 Update*
Last week, the Health Resources & Services Administration (HRSA) announced that the HRSA COVID-19 Uninsured Program (UIP) will soon stop accepting claims for testing and treatment of COVID-19 due to a lack of sufficient funds.
Testing and Treatment: The program has stopped accepting claims for testing and treatment due to lack of sufficient funds. No claims submitted after March 22, 2022 at 11:59 pm ET will be paid.
Immunization Administration: The program will continue to accept claims for immunization administration until 11:59 pm ET on April 5, 2022. Any immunization administration claims submitted in the portal after April 5, 2022, will not be honored for payment.
Claims submitted before these dates will be paid subject to fund availability.
For more information, please see
Uninsured children receive COVID-19 vaccine through the CDC's COVID-19 Vaccination Program. Payment for vaccine administration is available directly from HRSA via the COVID-19 Uninsured Program Portal. You will be paid the current Medicare rate for COVID vaccine claims.
Participation in the CDC COVID-19 Vaccination Program requires the following steps:
Enrolling as a provider participant (through UnitedHealth Group and Optum ID), 2.
Checking patient eligibility

To do so, you must first upload a spreadsheet of patients for whom you would like to submit claims to the HRSA COVID-19 Uninsured website. Download a template for the spreadsheet Once you have uploaded this spreadsheet to the HRSA COVID website, it takes about 24 hours for the patients to be verified as self-pay and a temporary COVID-19 Uninsured ID will be provided.

Submitting patient information

You may use this "Uninsured ID" just like you would a child's insurance ID
Submitting claims

Submit claims electronically to the COVID Fund using your typical claims submission process.

Receiving payment via direct deposit.
Providers who participate in the COVID-19 Vaccination Program must confirm that the patient is uninsured and agree not to balance bill recipients. Providers should refer to their local public health jurisdiction for information on enrolling in the program.
What Will I be Paid?
The CMS initially published Medicare payment amounts for administration of COVID-19 vaccines of $16.94 for administration of the first dose, and $28.39 for the second dose (and $28.39 for the administration of single-dose COVID-19 vaccines). On March 15, 2021, it was announced that Medicare is updating these payment amounts to $40 for each COVID-19 vaccine administration (ie, $40 for each injection, a total of $80 for those requiring two doses), beginning immediately.
Related, the American Rescue Plan Act (ARPA), signed into law on March 11, 2021, raises the federal medical assistance percentage (FMAP) for all COVID-19 vaccine administered to Medicaid and CHIP enrollees to 100% beginning April 1, 2021 and lasting one year after the end of the Public Health Emergency, thus making COVID-19 vaccine administration free to states for these populations. All Medicaid and CHIP programs should update their fee schedules to pay for the administration of COVID-19 vaccine at levels at least equal to Medicare payment. Advocacy through your AAP chapter may be needed if this is not occurring.
In private plans, pediatricians should work with payers with whom they contract to ensure they are paid appropriately for the administration of COVID-19 vaccine.
Underinsured Patients
Providers who have administered Food and Drug Administration (FDA) authorized COVID-19 vaccines under an Emergency Use Authorization (EUA) or FDA-licensed COVID-19 vaccines under a Biologics License Application (BLA) to underinsured individuals, on or after December 14, 2020 (the first date of vaccine distribution in the United States), may now submit their COVID-19 vaccine administration fee claims for reimbursement consideration to the Coverage Assistance Fund. To be eligible for reimbursement, the provider must have first submitted the claim to the individual's health plan for payment and had the claim denied or only partially paid.
Please go to the CAF Portal to register
For more information visit the HRSA site for more details.
Source
American Academy of Pediatrics